Andrea H. - Babysitting
0
20 years
4 years of experience
4.00 - 4.50 €/hour
Waiting for the first message
Speaks

Slovak language
List of locations where he/she works

Michalovce
Age of children

3 - 6 years; 6 - 10 years
Maximum number of children

3
Tolerates pets

yes
Smoker

no
Provides social services under Act No. 448/2008

no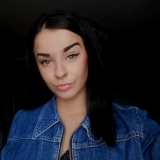 Experience description

Dobrý deň volám sa Andrea Hudáková mám 20 rokov, skončila som strednú školu a hľadám si zamestnanie. Nemám ešte vodičák.
S deťmi mám skúsenosť, keďže mám 4 ročného brata o ktorého som sa starala, a starala, a strážila som aj iné deti, či už susedov keď niekam šli alebo tak.. Viem sa postarať o to aby sa deti nenudili, viem sa s nimi hrať uvariť im jesť, chodiť s nimi von poprípade ísť po nich do škôlky. Môj vzťah k deťom je veľmi dobrý, milujem deti keďže sama mam malého brata. A viem im poskytnúť to čo treba, čo sa týka stráženia deti. Ak by ste mali záujem o stráženie vášho dieťaťa alebo deťmi kľudne sa mi môžte ozvať.
Frequency of babysitting

occasionally or irregularly
Place of babysitting

in the place of the household residence seeking a helper
Provides the following services beside babysitting

cooking, baking
serving meals
putting children to bed
walks and playground supervision
help with homework
serving medicine
taking care of pets
cleaning the child's bedroom
cleaning the kitchen
grocery shopping
Additional skills

art and crafts
creative approach to children
Availability calendar

| | Mon | Tue | Wed | Thu | Fri | Sat | Sun |
| --- | --- | --- | --- | --- | --- | --- | --- |
| 6 - 10 | | | | | | | |
| 10 - 14 | | | | | | | |
| 14 - 18 | | | | | | | |
| 18 - 22 | | | | | | | |
| 22 - 6 | | | | | | | |
Andrea H. has also other profiles: