Oľga S. - Babysitting
1
54 years
6+ years of experience
5.00 - 8.00 €/hour
92% response rate to messages, 4 days average response time
Speaks

Slovak language, Czech language, Russian language
List of locations where he/she works

Bratislava 1 - Staré Mesto, Bratislava 2 - Vrakuňa, Bratislava 2 - Podunajské Biskupice, Bratislava 2 - Ružinov, Bratislava 3 - Vajnory, Bratislava 3 - Rača, Bratislava 3 - Nové Mesto, Viničné, Show more
Age of children

0 - 1 year; 1 - 3 years; 3 - 6 years; 6 - 10 years; 10 years and more
Maximum number of children

3
Tolerates pets

yes
Smoker

no
Provides social services under Act No. 448/2008

no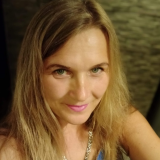 Experience description

V minulosti som pracovala v detskom domove a aj u nemenovanej celebrity skoro tri roky v Čechách. Opäť som sa vrátila k deťom. ale z vážnych rodinných dôvodov tu na Slovensko. Rada vám pomôžem. Ja som vdova Po mužovej smrti som chcela ukončiť prácu s deťmi , ale nahovorili ma tu v Senci do MŠ učiť našich najmenších teda aj od 1,5,2,3 roky. Žiaľ teraz nás asi budú prepúšťať a stále sme doma, čo má nebaví, tak rada by som vypomohla rodinám. Ja deti milujem a budem rada ak naďalej s nimi budem robiť. Neni to len moja práca, ale aj poslanie. Robím to už viac ako 20 rokov. Ďakujem Oli Sarkanyova.

Referencie:
V prípade záujmu vám viem poskytnúť referencie od spokojných maminiek, ktorým som deti od malinka, alebo ešte len narodenia vychovala a naučila veľa dobrého čo sa niektorým maminkám nepodarilo.
Frequency of babysitting

regularly the whole day
regularly in mornings
regularly in the afternoons and evenings
occasionally or irregularly
work on shifts
Place of babysitting

in the place of the household residence seeking a helper
at helper's place (service provider's place)
Provides the following services beside babysitting

cooking, baking
serving meals
putting children to bed
walks and playground supervision
help with homework
taking kids to freetime activities and trainings
driving the kids in a car
taking care of a frequently sick child
serving medicine
providing first aid
taking care of pets
cleaning the child's bedroom
cleaning the kitchen
grocery shopping
Can provide help with

asthma
alimentary allergy
diabetes
frequent children's illnesses
atopic eczema
child hyperactivity
Additional skills

singing
playing a musical instrument
art and crafts
sport and coaching
creative approach to children
Availability calendar

| | Mon | Tue | Wed | Thu | Fri | Sat | Sun |
| --- | --- | --- | --- | --- | --- | --- | --- |
| 6 - 10 | | | | | | | |
| 10 - 14 | | | | | | | |
| 14 - 18 | | | | | | | |
| 18 - 22 | | | | | | | |
| 22 - 6 | | | | | | | |
Oľga S. has also other profiles: