Monika M. - Tutoring
0
23 years
6+ years of experience
7.00 - 12.00 €/hour
67% response rate to messages, 10 hrs average response time
Speaks

Slovak language, Czech language, English language, German language, Polish language
List of locations where he/she works

Bratislava
Curriculum level

elementary school; middle school; high school
Max. number of pupils

2
Tolerates pets

yes
Smoker

no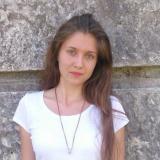 Experience description

SK:S doučovaním mám bohaté skúsenosti. Počas strednej a aj aktuálne počas vysokej školy som doučovala viaceré deti a z rôznych oblastí. Doučujem hlavne deti na ZŠ a nemám problém učiť aj v anglickom jazyku ( napr. cudzincov alebo bilingválnych). Najväčšie skúsenosti mám s doučovaním matematiky, anglického a nemeckého jazyka, ale vrámci domácich úloh viem pomôcť aj s fyzikou, slovenčinou ai.
EN: I have a lot of experience with teaching, as far as I started during my grammar school studies and continued also now during university studies. I focus on children on primary school but I am experience also to work with older ones. My main subjects are math, english and german, but I am able to help also with physics and slovak language.
Frequency of tutoring
Place of tutoring

in the place of the household residence seeking a helper
Tutors the following subjects

mathematics
geography
Slovak language
foreign language

English language
German language
Additional skills

dancing
art and crafts
sport and coaching
Availability calendar

| | Mon | Tue | Wed | Thu | Fri | Sat | Sun |
| --- | --- | --- | --- | --- | --- | --- | --- |
| 6 - 10 | | | | | | | |
| 10 - 14 | | | | | | | |
| 14 - 18 | | | | | | | |
| 18 - 22 | | | | | | | |
| 22 - 6 | | | | | | | |
Monika M. has also other profiles: