Martina H. - Tutoring
25 years
5 years of experience
4.00 - 10.00 €/hour
Speaks

Slovak language, Czech language, German language
List of locations where he/she works

Čadca, Žilina
Curriculum level

elementary school
Max. number of pupils

10
Tolerates pets

yes
Smoker

no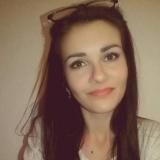 Experience description

Ahoj!

Pracujem ako učiteľka na 1.stupni ZŠ. Vyštudovala som predškolskú a elementárnu pedagogiku /učiteľstvo MŠ , vychovávateľstvo, učiteľstvo pre I.stupeň ZŠ/.

Deťom sa venujem a nadobúdam skúsenosti už od štúdia SŠ s pedagogickým zameraním, a to v rámci odbornej praxe vo viacerých materských školách, základných školách a v školských kluboch.

Vo všeobecnosti sa snažím vnímať všetky deti ako bystré, avšak osobnosť každého dieťaťa je iná. Vzhľadom na to pristupujem k deťom individuálne, pričom prihliadam na ich individuálne tempo. Preferujem učenie zábavnou formou, aby si dieťa spájalo učenie s pozitívnymi pocitmi a malo radosť z nového poznania.

Rada doučím Vaše dieťa 1. až 4. ročníka ZŠ z ktorejkoľvek oblasti.

Som zodpovedná a prispôsobivá.

Ak by ste potrebovali moju pomoc, kontaktujte ma.
Rada Vám poskytnem viac informácii.
Frequency of tutoring

regularly
irregularly (preparing for entrance exams, monitoring)
Place of tutoring

at helper's place (service provider's place)
Tutors the following subjects

mathematics
computer science
biology
geography
Slovak language
fine arts, painting
singing
foreign language
musical instrument
Can give help with

dyslexia
dysgraphia
dyscalculia
hyperactivity, attention deficit disorder
Additional skills

singing
dancing
art and crafts
sport and coaching
teachers' training education, work experience
Availability calendar

| | Mon | Tue | Wed | Thu | Fri | Sat | Sun |
| --- | --- | --- | --- | --- | --- | --- | --- |
| 6 - 10 | | | | | | | |
| 10 - 14 | | | | | | | |
| 14 - 18 | | | | | | | |
| 18 - 22 | | | | | | | |
| 22 - 6 | | | | | | | |
Martina H. has also other profiles: