Martin T. - Tutoring
0
39 years
6+ years of experience
8.00 - 16.00 €/hour
Waiting for the first message
Speaks

Slovak language, Czech language, English language, German language
List of locations where he/she works

Trenčín
Curriculum level

elementary school; middle school; high school; university
Max. number of pupils

2
Tolerates pets

yes
Smoker

no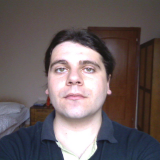 Experience description

Vždy som mal rád exaktné predmety ako matematika, fyzika, chémia atď.Absolvoval som Gymnázium a 5 rokov vysokej školy technickej - obor Mikromechatronika. Ovládam dobre Angličtinu- slovom aj písmom a Nemčinu pokročilo- písmom. Doučujem od svojej základnej školy a moje výsledky boli vždy výborné. Všetci moji žiaci urobili to čo potrebovali a ja som bol spokojný. Momentálne som zamestnaný na čiastočný úväzok ako učiteľ matematiky v súkromnej škole. Som taktiež pokročilý šachista, prax 20 rokov, hrával som aj za Trenčín a trúfam si viesť začiatočníkov v šachu. Ovládam dobre počítač.

Referencie:
Mám zopár kontaktov na osoby ,ktoré som doučoval, väčšinu však už nie ,ale niektoré by som vedel zohnať. Juraj K. - študent, doučoval som matematiku strednej školy , Katarína T. - študentka vysokej školy ekonomickej - doučoval som matematiku . Bolo to dohodnuté prostredníctvom jej mamy na ,ktorú mám kontakt .
Frequency of tutoring

regularly
irregularly (preparing for entrance exams, monitoring)
Place of tutoring

in the place of the household residence seeking a helper
at helper's place (service provider's place)
Tutors the following subjects

mathematics
chemistry
physics
computer science
biology
geography
foreign language

English language
German language
Additional skills
Availability calendar

| | Mon | Tue | Wed | Thu | Fri | Sat | Sun |
| --- | --- | --- | --- | --- | --- | --- | --- |
| 6 - 10 | | | | | | | |
| 10 - 14 | | | | | | | |
| 14 - 18 | | | | | | | |
| 18 - 22 | | | | | | | |
| 22 - 6 | | | | | | | |