Kristína K. - Tutoring
0
25 years
4 years of experience
10.00 - 20.00 €/hour
80% response rate to messages, 5 hrs average response time
Speaks

English language, Russian language
List of locations where he/she works

Bratislava
Curriculum level

elementary school; middle school; high school; university
Max. number of pupils

10
Tolerates pets

yes
Smoker

no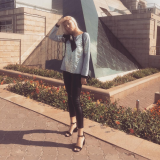 Experience description

Hello everyone! I'm an English teacher from Russia. I was working as an English teacher in the private school in Kazan. I'm sure, you'll speak English with me!
Ponúkam doučovanie ruského jazyka.- Doučujem od začiatočníkov až po pokročilých pre akúkoľvek vekovú kategóriu.
- Konverzacia s native speakerom.
- Možná výučba aj hravou formou: pesničky,rozprávky,filmy ,kultúra atď.
- Ak treba, výpomoc s domácimi úlohami.
Frequency of tutoring

regularly
irregularly (preparing for entrance exams, monitoring)
Place of tutoring

in the place of the household residence seeking a helper
at helper's place (service provider's place)
Tutors the following subjects

foreign language

English language
Russian language
Can give help with

dyslexia
hyperactivity, attention deficit disorder
Additional skills

dancing
sport and coaching
teachers' training education, work experience
Availability calendar

| | Mon | Tue | Wed | Thu | Fri | Sat | Sun |
| --- | --- | --- | --- | --- | --- | --- | --- |
| 6 - 10 | | | | | | | |
| 10 - 14 | | | | | | | |
| 14 - 18 | | | | | | | |
| 18 - 22 | | | | | | | |
| 22 - 6 | | | | | | | |
Kristína K. has also other profiles: