Xenia D. - Babysitting
3
55 years
6+ years of experience
8.00 - 12.00 €/hour
82% response rate to messages, 2 days average response time
Speaks

Slovak language, English language, German language, Russian language
List of locations where he/she works

Bratislavský kraj
Age of children

0 - 1 year; 1 - 3 years; 3 - 6 years; 6 - 10 years; 10 years and more
Maximum number of children

2
Tolerates pets

yes
Smoker

no
Provides social services under Act No. 448/2008

no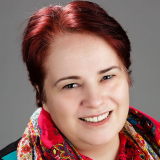 Average profile rating

3

Rating's comments from households:

Xenia opatrovala nasu dvojrocnu dcerku. Ma uzasny vztah k detom, dokaze si ich velmi rychlo ziskat. Krmenie aj uspavanie zvladla uplne super. Je velmi spolahliva a zodpovedna. Urcite ju vrelo odporucame.

Rada by som Xeniu ohodnotila ako skvelu opatrovatelku. Je plna dobrej nalady a vzdy vie zvladnut situaciu, vie prist ked je treba a da sa s nou dohodnut. Patri k ludom co to co robia robia so srdcom a to ja si cenim. :)
Experience description

Dobry den, som mila, trpezliva, s bohatymi skusenostami ohladom starostlivosti o deti a domacnost, dobre varim, mam dobry pristup k detom, som spolahliva . Hovorim plynule AJ aj prekladam, mierne NJ a zaklady mam v RJ. Tesim sa na moznost starat sa o male aj veacsie deti.

S pozdravom
Xenia Dom


To all whom concerns,

I am positive and creative person who likes to take care of the children. I have lot of experience and have already taken care of babies from the birth till 5 years old. I love to travel, I am fluent in English and Slovak is my native Language . I speak German but not well, and passively understand Russian.
Very kind Regards
Xenia

Referencie:
Anna S.
Frequency of babysitting

regularly the whole day
regularly in mornings
regularly in the afternoons and evenings
occasionally or irregularly
work on shifts
Place of babysitting

in the place of the household residence seeking a helper
Provides the following services beside babysitting

cooking, baking
serving meals
putting children to bed
walks and playground supervision
help with homework
taking kids to freetime activities and trainings
driving the kids in a car
taking care of a frequently sick child
serving medicine
providing first aid
cleaning the child's bedroom
cleaning the kitchen
grocery shopping
Can provide help with

asthma
alimentary allergy
diabetes
frequent children's illnesses
atopic eczema
child hyperactivity
Additional skills

singing
art and crafts
creative approach to children
Availability calendar

| | Mon | Tue | Wed | Thu | Fri | Sat | Sun |
| --- | --- | --- | --- | --- | --- | --- | --- |
| 6 - 10 | | | | | | | |
| 10 - 14 | | | | | | | |
| 14 - 18 | | | | | | | |
| 18 - 22 | | | | | | | |
| 22 - 6 | | | | | | | |
Xenia D. has also other profiles: