Regiane Cristine F. - Housekeeping
0
36 years
6+ years of experience
5.00 - 6.00 €/hour
40% response rate to messages, 10 days average response time
Speaks

English language, Spanish language
List of locations where he/she works

Lučenec, Zvolen, Bratislava, Košice, Rožňava, Hlohovec, Rimavská Sobota
Cleans the following premises

1-3 rooms apartment, 4plus room apartment, office premises, common residential premises, social, health, educational premises
Tolerates pets

no
Smoker

no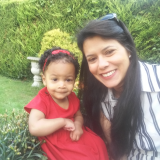 Experience description

My name is Regiane.
I am 36 years old, marriaged and with 1 child. I am Brazilian and I live in Slovakia . I consider myself organized and creative. I want help you for clean and organized your house. I have Saturday free , I can help you only Saturday .I speak English, I am currently studying Hungarian and Slovak. If you need help , please contact me .
Thank you very much!
Frequency of helping

twice a week
once a week
occasionally or irregularly
Provides the following services

usual cleaning
washing the laundry
ironing
cooking, baking
doing grocery shopping
complete cleaning
Availability calendar

| | Mon | Tue | Wed | Thu | Fri | Sat | Sun |
| --- | --- | --- | --- | --- | --- | --- | --- |
| 6 - 10 | | | | | | | |
| 10 - 14 | | | | | | | |
| 14 - 18 | | | | | | | |
| 18 - 22 | | | | | | | |
| 22 - 6 | | | | | | | |
Regiane Cristine F. has also other profiles: